Fast-track service for knee and hip operations in Cornwall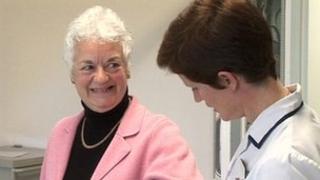 A fast-track service has been set up for people undergoing knee and hip replacement surgery in Cornwall.
The service at St Michael's Hospital, in Hayle, means patients are booked in for one, four-hour, appointment.
During the appointment they see a consultant and occupational therapist as well has having x-rays, blood tests and pre-operation assessments.
Kathleen Williams from Penzance, who was operated on within seven weeks, said: "I feel that's how it should be."
'Absolutely delighted'
The Royal Cornwall Hospitals Trust (RCHT) said that last year more than 1,200 patients waited more than than the 18-week deadline for surgery, but this had so far been cut to 10 weeks.
It said it hoped the service, introduced in February at the county's centre for orthopaedic surgery, would help reduce the wait for patients with no other health conditions.
Mrs Williams said: "Waiting for letters, waiting for phone calls, weeks go on, you're getting more debilitated all the time.
"An operation like this you want to come in healthy so that you can make a good recovery."
Robin Kincaid, Speciality Director for Orthopaedics at RCHT said: "When you see them in the clinic and you give them a date they're absolutely delighted."
RCHT currently has 1,100 patients on the waiting list.