Asbestos waste 'will be removed' Environment Agency pledges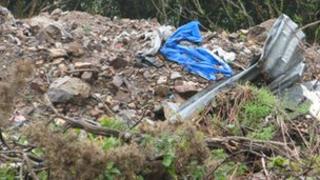 Asbestos waste dug up from an old mineshaft in west Cornwall will be removed, the Environment Agency has said.
The waste was excavated during an operation to recover the body of a horse which had fallen into the shaft near Redruth in February.
Nearby residents were concerned about the possible danger to their health.
But the Environment Agency said it was a "relatively small amount" which would be removed, although no date was given.
The Environment Agency and RHOS Construction Ltd, which wants to develop the land, said the hazardous waste would be removed as soon as the weather improved.
A statement said: "The surface waste will be removed and the area reinstated dependent on the weather.
"If planning permission is granted then all waste will have to be removed."
Christine Beith who lives in Scorrier, said local residents had "begun to worry a lot after learning more about the dangers of asbestos".
A spokesperson for the Health and Safety Executive said asbestos waste should be wrapped in special bags and disposed of only at a licensed site.