Concern for dolphins caught as by-catch off Cornwall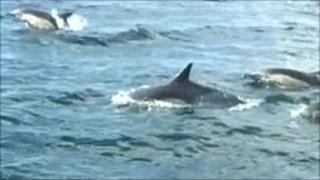 A wildlife charity has said it is concerned at the number of porpoises and dolphins being caught as by-catch in Cornwall.
Cornwall Wildlife Trust (CWT) said more than 50 marine mammals were found stranded on beaches with estimations that about 2,000 had died last year.
Fishing boats in Cornwall larger than 14m are trialling pinger devices, which let out a noise to repel the creatures.
Dr Nick Tregenza said: "Our concern is stopping animals dying in the nets."
"It has been going on for a long time and we're pressing for action," he said. "The large boats have adopted a pinger which has been bought by Defra.
"The fishermen want to do something now because they want accreditation for sustainable fisheries."
He said CWT was currently trialing a cost-effective pinger, which it hoped would be put into use in the near future and be financially viable for fishermen in the county.