Cornwall driver, Peter Hatch, sentenced for passengers' deaths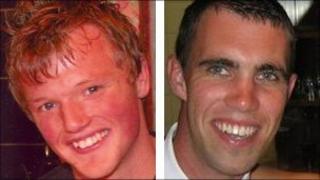 A driver from Cornwall who "may have felt drowsy" when his car crashed, killing two of his passengers, has been given a suspended sentence.
Peter Mark Hatch, 21, of Moorland Road, Launceston was driving from Plymouth to Launceston when his car struck a wall and tree and overturned on 2 May 2011.
Liam Hancock, 20, and Matthew Reynolds died as a result of the crash.
At Truro Crown Court, Hatch was given an eight month jail sentence, suspended for two years.
'Heavy burden'
The court heard there was no evidence to suggest that Hatch had been drinking or taking drugs on the journey back to Launceston from a Plymouth nightclub.
Judge Christopher Harvey Clark QC said: "This was a truly tragic accident caused by a simple misjudgement on the corner or, more likely, you may have felt drowsy. You have no recollection of it.
"You are a decent young, hardworking man from a good family and you will suffer acute remorse for the rest of your life for the knowledge that your driving cost the lives of your two friends.
"That will be a very heavy burden for you to carry."
The accident happened on the A388 at Lezant, Launceston.
The two men died at the scene from multiple injuries. Another passenger David Andrews was badly injured.
Hatch sustained injuries to his legs and remained in hospital for several weeks.
He has been disqualified from driving for three years and until he passes an extended test and must do 250 hours of unpaid work for the community and pay £750 prosecution costs.