Scam mail crackdown started by Cornwall Council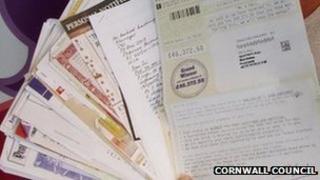 People in Cornwall are being urged to hand in their scam mail in a bid to crack down on offenders.
The campaign is to run throughout May and will involve 29 libraries where people can hand in the letters.
The mail will be analysed by trading standards and sent to the Consumer Education Liaison Group (CELG) to investigate.
Some people have received up to 600 letters a month, a Cornwall Council spokesperson said.
Elizabeth Kirk, senior trading standards officer, said: "It's very difficult to know the scale of the problem as most people never come forward and admit they've been a victim.
"These schemes often target vulnerable and lonely people."
The campaign is being run by Cornwall Council.
The CELG is a government organisation offering consumer education, advice and information.