Cornwall waste collector Cory 'facing £20,000 fines'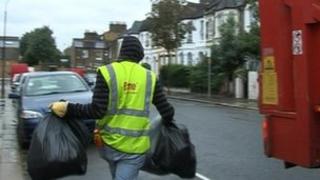 The company which operates Cornwall's waste and recycling collections could be fined £20,000 for failing to meet targets, council bosses have said.
Under its contract with Cornwall Council, Cory Environmental faces fines of £50 a household if fewer than 99.9% of collections are carried out.
Households across the county have complained about missed collections in the six weeks since Cory took over.
Cory said improvements had been made since it started in April.
'Good deal'
Kevin Lavery, chief executive of the Conservative/Independent-led Cornwall Council, said that the countywide service was "not good enough" and needed to improve.
He said: "The first month was a settling-in period. The second month is where penalties apply.
"We have said to Cory that 99.9% of collections have to be achieved. One household below that and it's a £50 fine [per household], and £100 for repeated mis-collections."
The county has about 254,000 households.
Mr Lavery said: "If you've got 0.1% of households missed below that 99.9% threshold, that'll cost Cory £12,500."
He added that the latest figures he had seen could lead to Cory paying "something in the order of £20,000".
"There's a very strong financial incentive on Cory to get it right," he said.
Cornwall Council said it had saved £3m by taking on Cory as the county's main waste and recycling contractor.
Mr Lavery said: "There was bound to be a settling-in period because we are expecting 254,000 households to change the way they deal with their waste.
"We've had to make savings of £170m a year. This is a good deal for the service user and it's a good deal for the taxpayer in the long term."
Cory managing director Nigel Carr said: "We are certainly are getting better. We've made considerable improvements, but clearly there are more improvements to be made."