London 2012: Sailor Ben Ainslie to start UK Olympic torch relay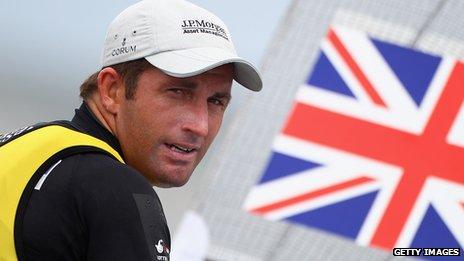 Sailing champion Ben Ainslie, who learned to sail in Cornwall, will carry the Olympic torch on the first leg of its relay across the UK.
The torch, which was lit during a ceremony at Olympia in Greece, will set off from Land's End on 19 May.
Ainslie, from Lymington, Hampshire, who is hoping for a fifth Olympic medal at the London 2012 Games, said being the first torchbearer was an honour.
Cycling gold medal winner Sir Chris Hoy will carry the torch in Manchester.
Ainslie, who grew up near Falmouth and started sailing at the age of eight at Restronguet Sailing Club, said he was delighted the torch was starting its journey in Cornwall.
"I am extremely honoured to be the first torch bearer," the 35-year-old sailor said.
"It will be an amazing experience to be able to carry the Olympic flame in the area that I grew up in.
"It's a great story and great for Cornwall... it's going to go throughout the nation as it should and everyone will get a chance to experience that little bit of an Olympic feel,"
Seb Coe, chairman of Locog, the organisers of London 2012, said Ben Ainslie was the "perfect person" to start the relay because he grew up in the area and was an "inspirational sportsman who has worked hard to achieve his goals".
"He will kick off what will be an amazing celebration of people and places from all over the UK in the run up to the Olympics Games this summer," Lord Coe added.
During the 10-week UK relay, the torch will be carried by a total of 8,000 torch-bearers.
It will travel about 8,000 miles (13,000km) across the UK - coming within 10 miles of 95% of the population - before the opening ceremony in London.
The London 2012 sailing events will be held at Weymouth and Portland in Dorset, and if Ainslie succeeds there, he will become the most successful Olympic sailor ever.
He won a silver medal at his debut Olympics in 1996. His first Olympic gold followed in 2000 - a success he repeated in the 2004 and 2008 Games.
Related Internet Links
The BBC is not responsible for the content of external sites.