Cornish recycling ReZolve saved from closure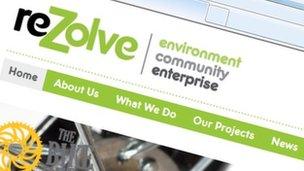 A Cornish organisation which promotes recycling, training and works with ex-offenders has been saved from closure.
ReZolve was facing funding problems because of changes in government grants and gaps between payments it needed.
The national drug and alcohol advice charity Addaction has stepped in to provide long-term backing and support.
The move has protected 20 jobs and safeguarded volunteering, training and offender rehabilitation opportunities for about 50 people, ReZolve said.
The 15-year-old organisation, based in Bodmin, oversees a number of projects for recycling furniture, white goods and bicycles as well providing information and training on the subjects.
Jon Rolls, from ReZolve, said the organisation had faced being shut down because of "a question of timing".
He said: "Government changes gave us a big gap in between programme funding, and it meant we may not get paid for a year or two years on various programmes. That could have caused significant problems "
He added that the move by Addaction would would benefit both organisations.
He said: "We can give opportunities to their clients and service users, and they can give us the stability we need to see us through this economic uncertainty."
Related Internet Links
The BBC is not responsible for the content of external sites.