Phoenix Stroke Appeal reaches £250,985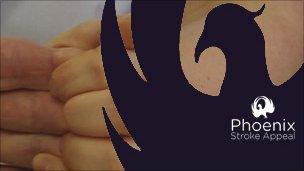 An appeal to raise money for stroke equipment and services has passed the halfway target of £500,000.
Listeners to BBC Radio Cornwall have helped to raise £250,985 for the Phoenix Stroke Appeal, since it was launched in June last year.
The money will go to the acute unit at the Royal Cornwall Hospital and the dedicated stroke units at Bodmin and Camborne Redruth Community Hospitals.
It is estimated that about 1,000 people have a stroke every year in Cornwall.
The Phoenix appeal will also benefit stroke carers in the community.
A £1,000 "neater eater", which helps steady a spoon for patients with severe tremors, has already been purchased.
Robert Downie, who is in charge of occupational therapy at Bodmin, said the spoon enables patients to feed themselves, giving them a measure of independence.
"The dignity of being able to eat and drink and look after yourself is really important," he said.
"For some people it really, really can enhance their daily living and enhance their quality of life."
BBC Radio Cornwall asked listeners to bring in their jars/tins of loose change for the benefit of the Appeal.
Rik Evans, the chairman of the Phoenix appeal, said more than 1,000 people have a stroke every year in Cornwall, adding there was "hardly a family that hasn't been touched by its long-term effects on loved ones".
Carol Fletcher from Carharrack near Redruth suffered a stroke when she was in her 20s.
She said: "It took me years to learn to walk and speak again. Your brain has to make new connections.
"It's hard for many stroke sufferers, because other people can't see that you are struggling even to hold a conversation."
Ms Fletcher has dedicated much of her time to helping other stroke survivors in a support group called Connect.
She said: "I want to see everyone getting what they need without having to ask."
Peter Murray-Clarke, 71, from Polgooth, currently a patient at Bodmin's stroke unit, said he has been overwhelmed by the high standard of care he has received.
"They bend over backwards and have been really caring and helpful," he said.
All three hospitals, and stroke carers in the community, have drawn up a "wish list" of equipment that would improve their treatment of stroke, and raise Cornwall's level of response to stroke from "adequate" to "world class".
A few examples are lifting and positioning equipment, aids for breathing and swallowing, and monitors and scanners to assist diagnosis and rehabilitation support.
If you would like to make a donation:
Please make cheques payable to the Phoenix Stroke Appeal and send to:
The Phoenix Stroke Appeal
Or you bring your spare change to BBC Radio Cornwall's studios at Phoenix Wharf in Truro.
Related Internet Links
The BBC is not responsible for the content of external sites.