Newquay lift fall man Stephen Dinsdale seeks compensation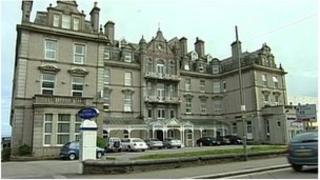 A man is seeking compensation from a Cornwall hotel for a knee injury he says he suffered when a lift fell 100ft (30m).
Stephen Dinsdale, 44, of Walton-on-Thames, Surrey was on a stag weekend at the Hotel Victoria in Newquay in 2010 when the lift got stuck before falling.
Mr Dinsdale has instructed solicitors to seek compensation from the hotel.
The Hotel Victoria said it was unable to comment because the matter was in the hands of its solicitors.
Mr Dinsdale said he and five friends became stuck in the lift which transports hotel guests to a small cove below the cliffs.
'Just terrifying'
They were told that the lift would be manually winched down to the ground floor, but instead it fell.
Two other men in the lift received minor injuries.
Eighty five emergency service workers helped rescue the men from the lift.
Rescuers included two lifeboat crews because the incident happened shortly before high tide and the only access to the cove was from the sea.
Father-of-two Mr Dinsdale said: "The whole experience was just terrifying. We were meant to be on a stag weekend having a great time but on the first day things just went drastically wrong."