Truro Waitrose plan gets all-clear from Eric Pickles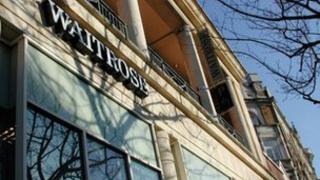 Truro is to get a Waitrose supermarket as part of a £40m shops and homes development.
Communities Secretary Eric Pickles decided not to call in the plan which was approved by Cornwall councillors in March.
The development of 98 homes, 1,300 space park and ride, recycling centre, Cornish food hall and a Waitrose, is expected to create about 210 jobs.
Construction on the Duchy of Cornwall land is expected to start next year.
Opponents, who wrote 250 letters of objection to the scheme, said they were "very disappointed".
They said it would affect the landscape, cause traffic problems and take money from the city centre.
'Enduring'
But Waitrose director of development, Nigel Keen, said: the Cornish food hall "will help local producers flourish" and "supporting farmers and growers is core to our philosophy".
Of the new homes, 34 will be classed as affordable.
Tim Gray, estate surveyor to the Duchy of Cornwall, said: "The Duchy has been attracted to this scheme because of its sustainable credentials.
"It will address Truro's transport and recycling needs, reduce carbon dioxide emissions, provide much-needed jobs and housing, and create a new model for local food retailing.
"The impact on Truro and Cornwall will be positive and enduring."
The scheme will also include small food processing units for local producers, community allotments, a demonstration kitchen garden and the planting of more than 6,000 trees, including fruit and nut varieties.
A biomass energy centre will provide heat and power on site.