Karin Schepers captain sounded 'increasingly drunk'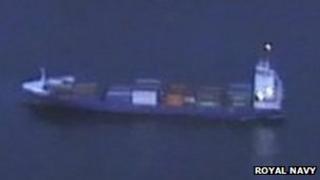 The captain of a cargo ship which hit west Cornwall sounded "increasingly intoxicated" before falling asleep on the bridge, a report says.
The 9,000-tonne German-owned container ship Karin Schepers ran aground on a beach east of the Pendeen lighthouse, near St Just, on 3 August 2011.
The captain was asleep alone with no lookout when the ship hit shore.
The Marine Accident Investigation Branch's (MAIB) report said the ship's owners had since reviewed safety.
Alcohol measures 'ineffective'
The vessel, with 13 crew on board, was sailing from Cork in the Republic of Ireland to the Netherlands when it ran aground.
Police, RNLI and coastguard teams were called to assist.
However, the crew of the 141m (463ft) Antigua and Barbuda-registered vessel managed to get the undamaged vessel free from sand on a high tide.
In its report, the MAIB said the captain had handed the watch over to the second officer at midnight.
However, he "returned to the bridge at regular intervals after midnight, sounding increasingly intoxicated until eventually he ordered the second officer from the bridge".
Shortly after this, he fell asleep for more than two hours before the vessel ran aground.
The report said safety measures which could have helped to mitigate such risks were not in place.
It said that there was no lookout on duty and a bridge navigational watch alarm system was not switched on.
The report said: "The audits of the vessel's safety management system, by the owner, had failed to detect that these important safety requirements were being ignored on board, or that measures designed to prevent the consumption of alcohol on their vessels were ineffective."
The MAIB added that the ship's owners had since "undertaken a fundamental review of the vessel's safety management system".