Pasty tax: Government 'still listening to concerns'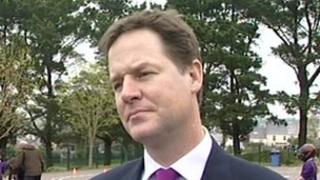 The government is still listening to concerns about the so-called pasty tax, the Deputy Prime Minister has said on a visit to Cornwall.
Liberal Democrat leader Nick Clegg spoke while visiting Bodmin on the day a consultation on the proposal to add 20% on all hot takeaway food closed.
Campaigners against the proposed tax said it would be a severe blow for the food industry.
Mr Clegg said he realised that people still felt strongly about the subject.
'Loophole'
Plans to introduce VAT on all hot food were announced in the Budget in March.
VAT is not charged on most food and drink - or hot baked goods - but is payable on takeaway food sold to be eaten hot.
Hot savouries - including pasties - are currently exempt, but ministers said all food sold "above ambient temperature" should carry VAT, with the exception of freshly baked bread.
The Treasury said that because VAT was already charged on most hot food, extending it to pies and pasties closed a "loophole".
The 20% levy is due to be added from October.
The plans have met with resistance from MPs on all sides, as well as businesses including high street bakers Greggs.
Mr Clegg said that all sides of the debate were still being taken into account.
He said: "We're listening very carefully indeed, and I know how strongly people feel about this in Cornwall.
"Liberal Democrats MPs in the county and others have talked to me personally about their concerns, and we're going to listen to them very closely."
A consultation into the proposals by HM Revenue and Customs, which was launched on 21 March, was due to finish on 4 May, but was extended until 18 May.