Cornwall's Blue Reef Aquarium cares for rare lamprey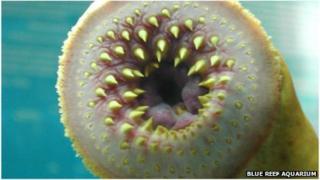 A rare fish which was accidentally caught by Cornish fishermen is recovering at an aquarium.
The lamprey, which has a ring-shaped mouth covered in rows of razor sharp teeth, was caught off Falmouth.
Lee Charnock, from Newquay's Blue Reef Aquarium, said the fishermen did not realise they had caught it.
The lamprey is in "excellent condition", he added. The aquarium said it was unsure whether the fish would remain there or be released.
Mr Charnock said: "By the time the fishermen spotted it amongst their catch it was too late to return it to the sea, and they decided to contact us.
"There are actually three different types of lamprey found in UK waters and it is often difficult to tell them apart.
"We believe this particular specimen is actually a sea lamprey, which can reach close to 19in (50cm) in length when fully grown."
A spokesman for the aquarium said: "It is one of the most ancient and primitive aquatic species on the planet.
"They feed by latching their mouthparts on to their prey and then use their teeth to cut through the skin to get to the blood and other body tissue."