Olympic torch: 'Red Light shone' at plane landing at RNAS Culdrose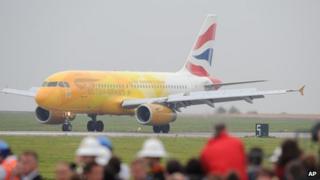 An investigation has begun into reports a red light was shone at the plane carrying the Olympic flame as it came in to land in Cornwall.
Staff at RNAS Culdrose said they saw the light as the aircraft was about a 100ft (30m) above the ground on Friday.
Devon and Cornwall police said "an unusual occurrence was reported by Flight Control. This will be fully investigated."
The plane, carrying David Beckham and other dignitaries, landed safely.
A police source told the BBC they did not believe there was a terrorist link to what happened, and it was "more likely to be stupidity, rather than sinister."
The force added that one line of investigation was whether the light originated from a laser pen.