Basking shark spotted in Looe harbour, Cornwall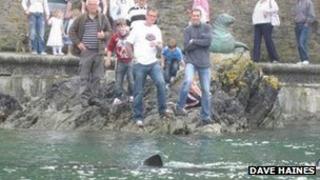 A basking shark has been spotted in a town harbour in Cornwall in what is believed to be the first such sighting for about 20 years.
The shark, estimated to be between 8ft and 10ft (2.4m and 3m) long, spent an hour at Looe after being seen at about 16:00 BST on Sunday.
The creature was watched by dozens of people on the town's quayside and Banjo Pier.
It then swam out of the River Looe, local lifeboat staff said.
Looe lifeboat operations manager Dave Haines said it was the first time in nearly 20 years a basking shark had been seen in the river.
Basking sharks can grow up to 39ft (12m) long and weigh up to seven tonnes.
They are often spotted off the county's coast, particularly during the summer because of a seasonal plankton bloom.