Cornwall reading groups aim to help people with dementia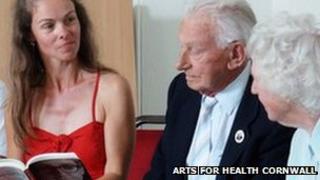 Reading groups have been set up across Cornwall in a bid to help people cope with dementia.
The groups allow people to enjoy books and socialise with others, organisers said.
Volunteers from the project, run by the Arts for Health Cornwall and Isles of Scilly, read books aloud to those with memory loss.
So far, five groups have begun and organisers hope the activity could help to slow the progress of the disease.
Layton Peacock, who has dementia and attends a group in St Ives, said: "I love reading aloud, but because of Alzheimer's I get the words mixed up.
"Just to hear someone else reading aloud is brilliant."
Sarah Hunt, project co-ordinator, said: "We are currently starting up the one-to-ones in people's homes and are also looking at other ways of expanding the project to reach more people who would benefit."