Newquay Airport sees 'biggest drop in passengers in UK'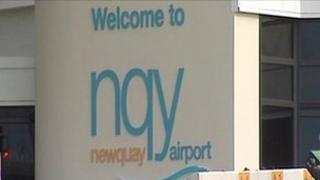 Newquay has seen a bigger fall in passenger numbers than most other major airports in the UK, figures have revealed.
Analysis company Anna.aero found there was a 26% drop in numbers between 2010 and 2011.
New commercial partners are needed to find new routes and airlines, said airport consultant Chris Cain.
Cornwall Council, which gives an annual subsidy to the airport, said it hoped to "build up the commercial side".
The figures, which detail passenger numbers at 37 UK airports, showed that 209,574 people used Newquay in 2011, compared with 280,081 in 2010.
Elsewhere, Glasgow's Prestwick Airport saw the second biggest fall with a drop of almost 22% from 1,660,811 passengers in 2010 to 1,295,767 in 2011.
'Double whammy'
Northern Ireland's City of Derry Airport saw the biggest rise of almost 20%, from 338,488 in 2010 to 405,568 in 2011.
Last year, Newquay Airport was hit by service cuts from Air Southwest and Ryanair.
Mr Cain said: "Part of the problem the airport has is the budget is under pressure.
"There's a balance between investing for the long term to bring new routes in and give airlines confidence, while public money is being used to subsidise the continued operation of the airport."
The airport receives an annual subsidy from the council, which in 2011 was £3.6m.
Chris Ridgers, cabinet member for economy and regeneration of the Conservative/Independent-led authority, said: "In the coming financial year the subsidy from the Cornish taxpayers will be £3.5m.
"However, that will bring about £24m of gross added value and supports about 400 jobs.
"We've always accepted that the airport will never wash its face purely on passengers, we've been looking to build up the commercial side."
He said the reduction in numbers was down to a "double whammy" of its biggest operator, Air Southwest, cutting services and the effects of the economic downturn.
But he added: "New airlines take on new routes, but they don't immediately put aircraft on.
"We're gradually seeing them being filled, and we're still actively talking to other airlines."
Last year, Newquay Airport was named by the government as an enterprise zone for new businesses.
At the time, ministers said companies choosing to develop there would be able to share tax breaks worth nearly £2.5m.