Lizard sighting possibly rare North Atlantic right whale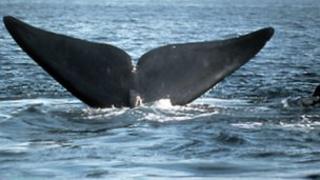 A possible sighting of one of the "most endangered species in the world" off the Cornish coast, has excited marine scientists.
Researchers believe the mammal spotted off the Lizard last month by a group of anglers could have been a North Atlantic right whale.
Scientists claim there are now less that 500 left in the world.
Dr Peter Evans, director of Sea Watch, described the sightings as "exciting and intriguing".
"We cannot be certain, but from the descriptions of a large whale, with barnacles towards the front, no dorsal fin, and a wide tail, it does sound like a North Atlantic right whale," he said.
With a length of up to 55ft (17m) long and weighing up to 70 tonnes, Sea Watch has urged anyone who may have also seen the whale to contact them with descriptions and photos.
"We really need to be absolutely certain that was what it was before we start jumping up and down which is what we would be doing," sightings officer Danielle Gibas told BBC News.
"Hissing noise"
The mystery mammal was sighted on 8 April, when garden plant breeder Jim Cave was out angling off Hot Point, just east of Lizard Point.
There have only been a handful of sightings of the species in European seas in the past 50 years.
Mr Cave said he was alerted by shouts from some young anglers down on the rocks.
"I had a good view but didn't see the head," he said.
"The back was breaking the surface smoothly, then the tail appeared straight up into the air and very large - about 2m - and then smoothly disappeared."
The previous day Daniel Wood, a local kayaker, heard a "loud hissing noise" at nearby Lizard Point and reported seeing the spray from a whale's blow as as the mammal "rose and cruised past him, not 40ft away".
From the evidence gathered, Sea Watch said it seems likely the same animal was seen on both days and, despite its rarity, was most likely to be a Northern Atlantic right whale.