Hot weather adder warning for Cornish walkers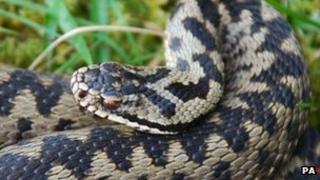 Walkers in Cornwall have been warned not to touch any snakes they encounter during the hot weather.
The adder - or common viper - is Britain's only venomous reptile and bites are more common in the summer.
Bites pose little danger to a healthy adult, however they can be painful and do require urgent medical attention.
The Health Protection Agency said 37 people sought advice over adder bites in the greater South West between 2009 and 2001 - 11 of them from Cornwall.
There were 196 cases across England, Scotland and Wales.
Dr John Thompson, director of the national poisons information service, said: "Enjoy them, look at them but don't come into physical contact."