Energy minister supports Cornwall's plans for solar centre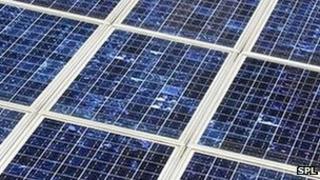 Plans for a national solar centre in Cornwall have been welcomed by Energy Minister Greg Barker.
Cornwall Council and Building Research Establishment believe a research and development centre would put the county at the cutting edge of the UK's solar energy industry.
Mr Barker described the plan as "exciting and far-reaching".
"This is great news for the South West and further evidence of the solar sector coming of age," he said.
The minister's comments were made as he unveiled a package of measures to reform the industry, including reducing the subsidies given to homeowners who install solar panels.
St Ives Lib Dem MP Andrew George also welcomed the plans and said housing the solar centre would enable Cornwall to add to its "green peninsula" credentials.
"Government championing solar energy is vital to the future of many emerging businesses," he said.
"Showing that the government is working in partnership with the sector in this way helps those working towards sustainable growth now."