Eden Project in £1.8m Cornwall Council loan row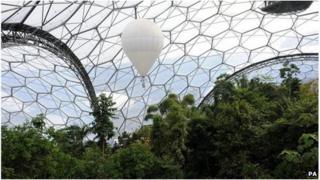 The Eden Project is at the centre of a row over a £1.8m loan from Cornwall Council which was paid by the South West Regional Development Agency.
The agency bailed out the Eden Project in 2008 and asked for the deal to not be made public, a Freedom of Information request showed.
Devon and Cornwall Business Council said the deal appeared to be "cavalier" and called for an investigation.
SWRDA added it also gave the attraction about £1m at the same time for repairs.
Jane Henderson, the outgoing chief executive of SWRDA, said: "It was really to help Eden at a time when the economy was down.
"They were struggling and they had other considerations and we didn't want to damage their good name."
The Eden Project said the £1.8m was part of a £3m loan in 1999 for an access road and by 2006, £1.2m of it had been paid off.
In 2006 the council's cabinet decided to "freeze interest payments in order to facilitate the further development of the Eden Project".
The council said in a statement: "In 2008 the remaining £1.8m of the original loan was repaid by the South West Regional Development Agency, and the accumulated interest of £164k was written off."
According to the BBC's Freedom of Information request to Cornwall Council, the RDA insisted that the council spent the money from it on economic development.
Another condition was there was to be no publicity.
BBC South West business correspondent Neil Gallacher said: "I understand this was partly to discourage a queue of applicants for such handouts".
Tim Jones of the Devon and Cornwall Business Council said there was "no doubt at all" that supporting the Eden Project with public money was right.
But he complained about a lack of transparency in the deal, saying: "There needs to be an investigation because it appears that a very cavalier attitude towards funding was adopted."
Eden Project founder Tim Smit said the £3m loan was spent on building a new three-mile access road which was also a bypass for a local village.
He said: "It's opened up the whole of the former derelict Clay Country for an eco town for which the council has just got £9m, so it's not a bad investment."
The Eden Project said in February that it was £5m in debt and has recently confirmed 25 job losses.
Mr Smit said the number of visitors to the attraction was rising.
SWRDA officially closed on 31 March and no longer carries out any functions, but is yet to be legally dissolved.