Cornwall Stadium developers disappointed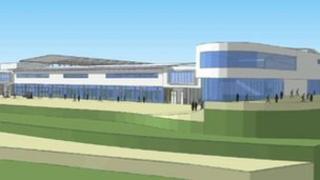 Developers behind plans for a new sports stadium in Cornwall said they were disappointed after councillors said no public money would be used.
A request by Cornwall Community Stadium Ltd (CCSL) for £10m from Cornwall Council for the 10,000-seat stadium near Truro was rejected by the cabinet.
Developers said the money was needed for the proposed £24m stadium at Langarth as it was unable to proceed solely as a private initiative.
CCSL said it would seek private money.
Managing director of Inox Group, which is a member of CCSL, along with the Cornish Pirates and Truro and Penwith College, said: "This at least removes the uncertainty about public sector funding and the political divide that has accompanied it.
"Inox remains fully committed to helping to deliver a stadium at Langarth and will continue to seek private sector investment.
"This would be an exceptional project and it is now an incredible challenge, but this is by no means the end. Inox will now discuss options moving forward with CCS Ltd partners."
Peter Marks, chairman of campaigners Stadium for Cornwall, said: "We don't think it's the end, but without money from the council, the council will have no say in what happens inside it.
"So rather than being for the community, it would be for whoever puts the money into it."
'Sad situation'
He said the group hoped to bring the plan back to the council for re-examination and was planning a new petition.
Council leader Alec Robertson called the decision a "very sad situation".
He said: "We have lost a lot of our central government funding and I can understand people's nervousness.
"My personal view is that we should invest in this sort of project, but that is not the view of the cabinet.
"It would be wrong to ignore the democratic view of the majority."
He said that there were options for supporters of the stadium, by pressing for a local referendum and investigating community funding further.
"This is not going to go away and if the people want a stadium they will get it," he said.
Mr Robertson wrote to CCSL , informing it of the decision.
The Cornish Pirates, currently in the RFU Championship, are battling for a place in the elite league but need a stadium to match.
The Mennaye field in Penzance does not meet the Premiership's minimum capacity criteria of 10,000 and the club had hoped to share the proposed stadium with Truro City and the local college.