Bees given new home on Truro City Hall roof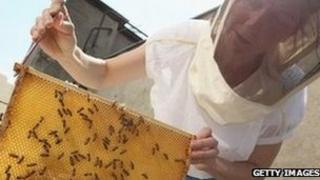 Twenty-thousand bees have a new home on top of Truro's city hall.
The installation of two hives in the Cornish city is part of an initiative by Truro's new Green Party mayor, Lindsay Southcombe.
Ms Southcombe wants to raise awareness of the insects' decline and has entitled her first term in office as "The Year of the Bee".
Scientists claim bees numbers are being severely threatened by pesticides, disease and environmental changes.
Colin Reece, president of Cornwall's beekeepers' association, said the bee was "responsible for every third mouthful of food that we eat".
Pollination role
"Without the honey bee, we would not have the range of food that we take for granted available to us now," he said.
"The bee is responsible for every third mouthful of food that we eat through their pollination. We think of the honey bee as making honey, but their primary role in life is pollination."
Experts said the initiative was "perfectly safe" and would not pose any threat to the public.
Flowers and shrubs enjoyed by bees will be planted on the roof of the town hall and Ms Southcombe said the honey produced would be harvested and sold for charity.
David Aston, from the British Beekeepers' Association, said bees could often do better in urban areas than in the countryside, because city parks and gardens contained a higher diversity of plant life.
Scientists have previously warned that if bees and other pollinators were to disappear completely, the cost to the UK economy could be up to £440m per year - about 13% of the income from farming.