Risso's dolphin stranded on Perranporth beach is rescued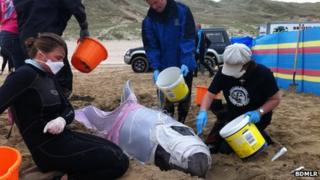 A dolphin which was stranded overnight on a beach in Cornwall has been rescued.
The mammal - a Risso's dolphin - is thought to have beached at Perranporth in the early hours.
Members of the British Divers Marine Life Rescue (BDMLR) worked with a vet to help the 2.7m (9ft) dolphin.
The animal was returned to the sea after the vet said it had no obvious signs of injury or disease and could be "refloated" safely.
Stephen Marsh, BDMLR's operation manager, said there was a healthy population of Risso's dolphins in the Bay of Biscay and off the Hebrides in Scotland.
"We think it probably beached about 1am at the turn of the tide - but we've no idea why it stranded," he said.
"Risso's are deep water specialists and when one is found on a beach, it usually means something's wrong."
Mr Marsh said after the attending vet confirmed the Risso's dolphin was a "good candidate for refloat" it was carried into the water on a pontoon system to give it good support.
"A few minutes later, the dolphin itself decided it was ready to swim away and although initially doing so parallel to the beach, turned and headed directly out to sea," he said.
Mr Marsh said the dolphin appeared to be swimming strongly.
Risso's can grow up to about 4m (13ft) long and normally travel in pods of up to 50.
Although generally found in deep waters, rather than close to land, Risso's have been sighted off Devon and Cornwall before.