HMS St Albans flight deck Jubilee tribute to the Queen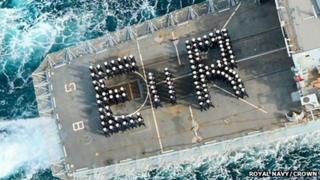 Royal Navy personnel have sent a Diamond Jubilee message to the Queen.
Sailors on board Portsmouth-based HMS St Albans made an "E:R" formation on the flight deck and the photograph was taken from the ship's helicopter.
The tribute to the Queen was made as part of a Royal Navy montage for the Jubilee celebrations.
HMS St Albans and its Merlin helicopter from 829 squadron RNAS Culdrose recently took part in Exercise Joint Warrior.