Penzance's Jubilee Pool £1.5m funding bid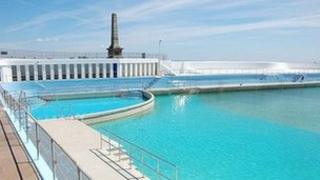 Leisure managers are hoping to secure £1.5m in funding to restore and protect the future of an open air swimming pool in west Cornwall.
Carrick Leisure Ltd has put in a bid for the Heritage Lottery money to maintain Penzance's Jubilee Pool.
Built in the 1930s, the Grade II listed structure is one of the oldest remaining art deco pools in the UK.
Currently subsidised by Cornwall Council, the long-term plan is for volunteers to help manage the site.
Carrick Leisure service manager Richard Allen said the majority of the money was needed to take care of the interior structure of the pool and the exterior walls of the facility, "securing the building, making it resistant to tides and storms".
"The concrete bottom of the pool has become detached from the reef underneath and as a result it is cracking and breaking up, so it needs to be re-secured to the reef underneath the seabed," he added.
The remainder of the grant would be used to restore the architectural features.
The Jubilee Pool was designed in the early 1930s by Captain F Latham, the Borough Engineer, and was opened in May 1935, the year of King George V's Silver Jubilee.