Newquay emergency services offer overnight support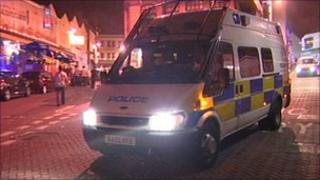 Police and ambulance services are providing overnight support and advice for people who get into difficulty in Newquay over the weekend.
Numbers in the town are expected to rise as young revellers visit the town for the bank holiday weekend.
The service will be provided from a temporary station on Marcus Hill as part of the Newquay Safe initiative, organisers said.
Staffed by volunteers, it will be open "late evening until the early hours".
Supt Julie Whitmarsh, from Devon and Cornwall Police, said: "Anyone who is in need of help or who has minor injuries can either go there and receive help and support."
The Newquay Safe Partnership, which involves police, councils, businesses and residents, was set up in 2009 to crack down on underage drinking after the deaths of two teenagers in the town.
The initiative has already undertaken a wide range of measures in Newquay to "minimise risk, provide a safe environment for people to enjoy themselves and to deal with any issues that arise".