Diamond Jubilee: Cornish communities light beacons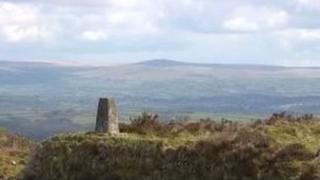 Communities across Cornwall have lit beacons for the Diamond Jubilee celebrations.
In Philleigh on the Roseland Peninsula, the youngest person to attend was given the honour of lighting the signal on Beacon Hill.
In St Mawes, a running and rowing race was held to decide who set off the beacon.
More than 4,000 beacons will be lit in the UK before the Queen lights the National Beacon last.
Rob Wing, from Philleigh, said: "Our plans are to gather on Beacon Hill, the site where Elizabethan beacons used to be lit, and the youngest member of the parish in attendance will light it."
Mr Wing said of the 149 villagers, the youngest parishioner was just nine months old - but he was not sure whether he would be at the event.
In St Mawes a race was held to decide who should light the beacon on the end of the quay.
Competitors ran across Summers Beach before rowing around the inner harbour in a gig.
Keith Warren, chairman of the parish council said: "We thought it would be great to have a race to light the beacon."
A full re-enactment of the Coronation has also taken place with children in the village.
Mr Warren said: "It's a community effort, a group of people coming together and trying to make the very most of a marvellous day."
In Looe, workshops have been held to design and make lanterns for an illuminated procession before the beacon is lit.
And at The Lost Gardens of Heligan a new pathway has been opened in celebration of the Jubilee.
The new Fern Gulley path is said to provide a "different perspective on the lost valley, giving visitors the first chance to enter the real heart of the jungle".
The path leads visitors across the valley floor, over stepping stones and across a jungle watercourses.
See all the latest Diamond Jubilee news and features at bbc.co.uk/diamondjubilee