Newquay Run to the Sun arrests 'local'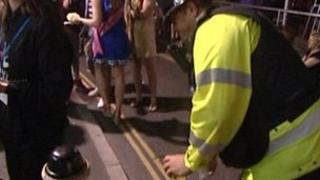 Many of the people arrested during the annual Run to the Sun festival in Newquay were local, police have said.
The car and music weekend event attracted thousands of people from around the UK to the Cornish resort.
About 30 arrests were made between Friday and Tuesday, Devon and Cornwall Police said.
Insp Ian Drummond-Smith said although the weekend was marred by the death of a 20-year-old Stroud man, fewer arrests had been made than in previous years.
The town's 20,000-strong population trebled to about 60,000 over the bank holiday period this year and the police operation - codenamed Operation Goldrush - included a team of officers working in the town centre with a drugs-detector dog.
Insp Drummond-Smith said: "We made less arrests this year and in general everyone was very well behaved.
"It is interesting to note that many of those arrested are local."
The majority of arrests were for drunk and disorderly behaviour, police said, with a total of 80 alcohol seizures made from adults drinking in prohibited zones.