Former publican teaches pupils dangers of alcohol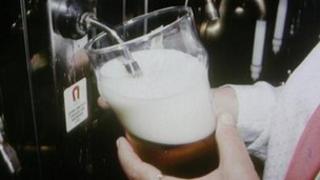 A former pub and club licensee is teaching school children in Cornwall about the dangers of alcohol.
Steve Clare, from Truro, set up his business with the help of social enterprise programme Outset Cornwall after he was made redundant.
Mr Clare is now using his 20 years of experience to educate teenagers about alcohol abuse.
Outset Cornwall has helped start up more than 200 business in the county since its launch in October 2009.
It was set up with convergence funding, which is the new European economic regeneration programme for Cornwall and the Isles of Scilly.
Personal experiences
Mr Clare teaches alcohol and drugs awareness lessons to pupils aged between 11 and 18.
Since beginning his business at the end of last year, he has already visited Roseland Community College near Truro, Penrice Community College in St Austell, Wadebridge School & Camborne Academy.
He told BBC News: "I thought I could offer a unique service to the schools, solely with the purpose of educating the kids and help them make some informed decisions.
"Lessons are based on my experiences, observations and personal opinions from 20 years in the licensing trade - 12 of them as a licensee."
Mr Clare said during his career in the hospitality sector, he was always aware of the issue of underage drinking and alcohol abuse.
'Beer goggles'
"I used to train my staff in checking ID and when to stop serving," he said.
"No-one asked me to do this, it's my own idea. I just wanted to get the kids to think, and seeing their reactions has been fantastic."
Mr Clare said he used props to add colour to his talks, including a pair of "beer goggles", from the Cornwall and Isles of Scilly Health Authority's Health Promotion department, which show how drink can affect visual impairment.
Mandy Pearce, head of personal, sexual and health education at Penrice Community College near St Austell, said it was important to have people with "in-depth" experience of their subject.
She said: "Something we hear a lot from the students is that they want to hear real life stories.
"One of the things that is really important to us is ask for outside advice and bring in speakers that have an in depth knowledge of those issues."