Royal Cornwall Show: Duchess attends opening day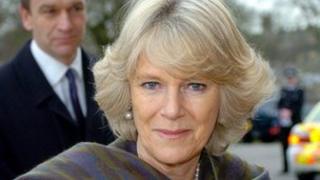 Thousands of people have attended the opening day of the Royal Cornwall Show.
The three-day show, held in Wadebridge, is the biggest event in the Cornish farming calendar and last year attracted more than 125,000 people.
The Duchess of Cornwall, who was guest of honour at the show, announced the winner of a Jubilee art competition.
Show secretary Chris Riddle said despite high winds and heavy rain, which could continue into the second day, the "show will go on".
"I wouldn't have thought it would alter things greatly," he said.
"The show over the years has become a largely indoors show - the show will go on."
'Ready to roll'
The annual event has been held at the Royal Cornwall Showground in Wadebridge since 1960.
One of the attractions this year will be the appearance of one of the horses that portrayed Joey in the film Warhorse.
Sultan is one of the horses with the Devil's Horsemen and he will be part of the team entertaining at the show.
Veronica Retallack, chair of the Cornwall Food and Farm Group, said: "We've been doing it for so many years now, and we're really looking forward to a good show."
The highest recorded number of visitors was 129,000 in 2008. The event runs from Thursday to Saturday.