Beach death man Luke Griffin's family visit scene in Newquay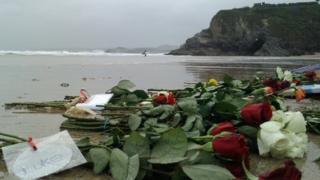 The family of a young Gloucestershire footballer whose body was found on a Newquay beach have visited the scene.
The family members laid wreaths and left messages at Great Western Beach where the body of Luke Griffin, 20, was found on Saturday.
They declined to comment on the visit. Among notes left at the scene were messages: "I love you" and "Keep smiling."
Mr Griffin's death is not being treated by police as suspicious.
Mr Griffin was earlier described as a "top guy" by Wayne Brown, manager of Leonard Stanley FC, in Gloucestershire.