HMS Penzance memorial unveiled in Cornish town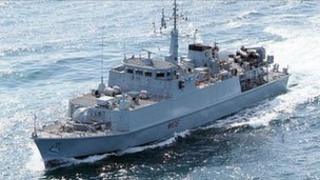 A memorial has been unveiled in a Cornish town to remember 90 crew members who died onboard HMS Penzance in 1940 during World War II.
The company of the current HMS Penzance attended the unveiling of the plaque in its namesake town.
The Royal Navy minehunter is spending four days in the town.
Lt Cdr Alex Bush said: "I am immensely proud to bring my ship to Penzance and I aim to reinforce the superb relationship they have."
He added: "This visit is particularly important for us to pay tribute to our fallen shipmates on board HMS Penzance in 1940, who lost their lives when the ship was torpedoed."
HMS Penzance also opened its decks to the public on Saturday.