Choughs in Cornwall enjoy 'fantastic' breeding season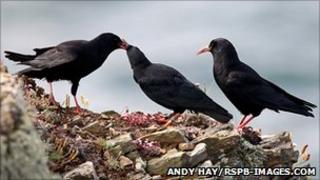 A rare bird found in Cornwall has had a "fantastic" breeding season, wildlife experts have said.
At least 16 chough chicks have hatched at five sites, according to the Cornwall Chough Project.
The project believes it has also seen the earliest fledging recorded in the UK, with some young birds on the wing by the third week of May.
The chough, a rare member of the crow family, has distinctive red legs and a long red bill.
Nests are monitored and protected by the RSPB, Natural England and the National Trust, as well as by volunteers.
The chough features on the official Cornwall coat of arms.
There were more than 100 pairs in the county but the bird vanished after its food source disappeared because of a decline in cliff-top grazing areas and the use of pesticides.
It eventually disappeared from the county in 1973, before returning to Cornwall 28 years later.