'Missing' catamaran reaches Isles of Scilly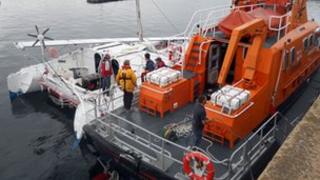 A catamaran that was missing for more than a week after disappearing during a transatlantic race has been taken to the Isles of Scilly of Cornwall.
The Orinoco Flo was spotted on Monday by a rescue helicopter about 80 miles (130km) off the islands.
The islands' St Mary's lifeboat was dispatched to meet it. The catamaran was brought into port overnight.
Last seen en-route to Falmouth from Antigua, the yacht went missing on 2 June and had been out of radio contact.
The single-handed skipper of the yacht, Matthew Gill, lost his mast in bad weather about 852 miles (936km) out in the Atlantic.
He waited two days for the sea conditions to calm down before beginning the task of retrieving the heavy mast.
The skipper, who had rigged an improvised mast and sail, was unhurt.
The rescue was coordinated by Falmouth Coastguard and the vessel was spotted by a helicopter from RNAS Culdrose in Cornwall.
Phil Mathias, from the coastguard, said: "The gentleman was on board but he wasn't making any progress. There was very little wind. One of his engines had broken down.
"He still had a fair old way to go about 75-80 miles off Scilly. So he decided to accept the help of St Mary's lifeboat."
The yacht is being refuelled on Scilly before Mr Gill plans to motor on to Falmouth.