Rare Scilly bee photographed on St Martins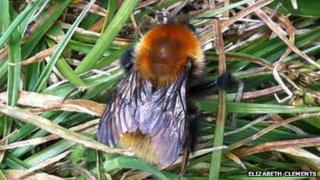 A bee, which it was feared was on the verge of extinction, has been photographed on the Isles of Scilly.
The pictures of the rare Scilly bee were taken on St Martins by resident Elizabeth Clements.
The distinctive orange-brown insect was spotted during the annual bee search, organised by the Isles of Scilly Wildlife Trust.
Entomologist Ian Beavis, a curator at Tunbridge Wells Museum, confirmed the photographs were of a Scilly bee.
A steady decline in the number of Scilly bees, a sub-species of the Moss Carder bee, which once populated all the inhabited and many uninhabited islands of Scilly, had led to fears the species could become extinct.
Mr Beavis said: "That's a very exciting find, especially as St Martins is the only major island with no definite modern records since the 60s."
The Big Scilly Bee Search, launched by the wildlife trust last year, has been training local people and visitors on how to distinguish between bumblebees, honey bees, solitary bees and other insects.
More sightings
Trust spokeswoman Julie Love said: 'It is the beginning of the season for the Scilly bee and it is a good year for the Scilly bee's favourite plant, birds-foot trefoil, so we are hopeful that there will be more sightings this year."
The bee was spotted at Chapel Down on St Martins, one of the five inhabited Scilly islands.
Ms Clements said: "I have always enjoyed looking for wildlife and I am so excited to have recorded the Scilly bee."
The photos were emailed to the Isles of Scilly Wildlife Trust for verification and the identity was confirmed by Mr Beavis.