Queen's voluntary award for St Austell Community Kitchen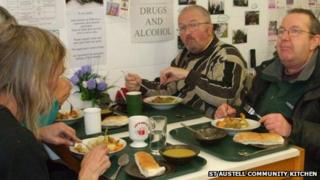 A community kitchen in mid Cornwall which provides food and support for vulnerable people has received the Queen's Award for Voluntary Service.
It is the highest award for volunteer groups in the UK and is given for outstanding work.
St Austell Community Kitchen (STAK), which serves about 4,000 meals a year, has been running for more than 20 years.
STAK trustee David Matthews described the award as "the icing on the cake".
"We have won various awards recently, but the Queen's Award is something we are all very proud of," he said.
Computer club
STAK and Carefree - an organisation which helps young people become independent when they leave the care system - were the only two voluntary groups in Cornwall to receive the award this year.
The award - created for the Queen's Golden Jubilee in 2002 - was "the MBE of volunteer groups", Mr Matthews said.
Last year STAK was named as best community project at the Cornwall Community Foundation (CCF) Awards.
The kitchen is open six days a week from 10:30 until 17:00 and is run by about 35 regular volunteers.
It provides hot lunches for £1 and sandwiches, cakes and cold and hot drinks are available throughout the day.
With funding from Cornwall Rural Community Council , STAK has recently bought six laptops and a printer and now runs computer courses for its clients and volunteers.
"We cover basic IT, literacy, numeracy and we've started doing budgeting, because that's one of the things quite a lot of people have trouble with," project manager Kim Matthews said.
A computer club, with free wi-fi access, is held on a Wednesday afternoon and is used to help people look for jobs, accommodation and keep in touch with their families.
Ms Matthews said STAK's success was due to the support of its volunteers and the whole community.
"We couldn't do it without them. Between April and Christmas last year we kept a check and about £9,000 worth of food was donated - that's why we can keep the cost of hot dinners to £1," she said.
"It's a friendly place with a family feel and people often say to us whenever they pass by they can hear laughter."
Among the local support for STAK, a cafe in the town donates its unused fresh bread and cakes, while a local dairy provides 30 to 40 litres of fresh milk twice a week.
"The people of St Austell are just simply amazing and we've got the community behind us," Ms Matthews added.