Olympic ceremony role for Cornish youngsters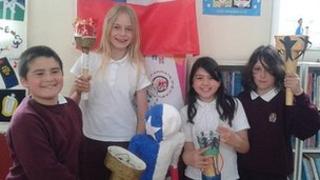 Pupils from a school in west Cornwall have been chosen to take part in the Olympic Games opening ceremony next month.
Children from St Ia School in Carbis Bay will form part of the Guard of Honour lining the route for the athletes as they walk into the stadium.
The pupils will join 2,000 students from 249 UK schools.
Student Alina Loretti, 11, said: "It's a once in a lifetime opportunity."
St Ia is a small independent school registered for 45 girls and boys aged from three to 11 years. Currently it has just eight pupils.
The school signed up to be part of the Get Set network - the official London 2012 education programme - which is a special community of schools and colleges demonstrating a commitment to living the "Olympic and Paralympic values" and incorporating them into their school lives and curriculum.
All eight children at St Ia were initially selected through the reward and recognition programme, but only four fitted the criteria that they had to be aged 10 or over.
'Absolutely thrilled'
Head teacher Sally Hudson said the school was informed by email two months ago about its involvement.
"It's been quite difficult as we weren't allowed to say anything at first, apart from to their parents, so we had to keep quiet," she said.
"It's just amazing, and all the children are absolutely thrilled. They so deserve it because they've worked so hard."
Each school involved in the ceremony has been assigned a country to support, alongside Great Britain, and St Ia was allocated Chile as they had already formed a partnership with a school in the country.
The children have been preparing to provide a "vibrant and diverse welcome for athletes" by creating lanterns and banners.
Isla Wester, 10, said: "I was really surprised, at first I couldn't believe it. I think we'll be having a tour of the stadium and then we'll hold banners up as the athletes walk past."
Lizzie Kenly, nine, said she was "quite surprised" and said she "did not think they would get this far for such a small school."