Rat catchers claim increase in Cornwall vermin numbers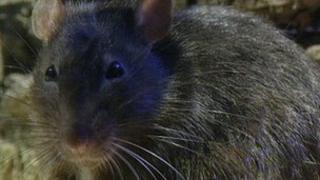 Rat catchers in Cornwall claim there has been a rise in the number of rats they are having to deal with.
Pest control experts said delayed waste collections, unwashed recycling and the recent heavy rain could all be factors.
Rat catcher Keith Perks said a new recycling system recently introduced in Cornwall could be partly to blame.
Cornwall Council, which withdrew its pest control service for domestic residents last year, said the number of cases reported to it had not risen.
'Food source'
Steve Clemo, from Pestokill, said: "The trend we're seeing at the moment is the sort of trend we would expect to see around September."
"Instead of rubbish being picked up and gone as it has been in the past, the new system has meant people's rubbish has been left out for days on end that has provided the rats with a food source," he said.
But Cornwall Council said, although "teething problems" had been experienced when the new service was introduced, these had been resolved and its waste contractor, Cory Environmental, was "successfully completing over 99.8% of scheduled collections".
A statement said: "The council's public health and protection officers investigate reports from the public of rat infestations in public areas or a neighbour's garden... however they have not received an increase in reports to the service over the past few weeks."
When the council stopped providing pest control for domestic premises last October because of budget cuts, it said commercial companies offered services for a similar price as the £43.20 it had been charging.
However, it said it would consider its reintroduction if withdrawing the service had a detrimental impact on the community.