Falklands veterans in parade at Cornwall's HMS Raleigh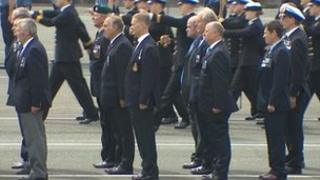 Nearly 70 veterans have taken part in a parade at a Royal Navy base in Cornwall to mark 30th anniversary of the end of hostilities in the Falklands War.
The 68 veterans joined more than 600 Royal Navy personnel in the parade at HMS Raleigh at Torpoint.
The parade was made up of HMS Raleigh's ship's company and trainees, as well as with platoons from Flag Officer Sea Training, the navy said.
Rear Admiral Clive Johnstone took the salute.
Falklands' sovereignty
A guard was formed by HMS Raleigh's Corporate Squadron.
Corporate was the codename for the military operation following the invasion, the navy said.
Argentine forces surrendered on the island on 14 June 1982.
The war saw 255 British servicemen and three Falklands civilians killed.
The number of Argentine dead is estimated at about 650.
The subject of the islands' sovereignty has been raised again this week after Argentina's president, Cristina Fernandez de Kirchner, demanded at a United National committee meeting that Britain entered negotiations.
Prime Minister David Cameron said there would be "no negotiation".