Dead St Kew Highway man Leslie Bate 'unlawfully killed'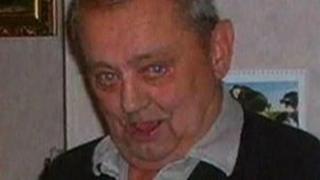 A Cornish farmer who was found beaten to death at his farm was unlawfully killed, a coroner has ruled.
Widower Leslie Bate, 71, from St Kew Highway died in April 2002.
The inquest in Truro was told his body was found in a pool of blood following his death from multiple injuries including fractured ribs.
He was last seen alive at his local pub in Chapel Amble, near Wadebridge, two days before.
Mr Bate had lived alone at Tregilder's Farm since the death of his wife in 2000.
His son Martin found his body in a pool of blood inside his home, close to the back door.
'Vicious death'
Forensic experts believed his injuries indicated his head was repeatedly beaten against the corner of a washing machine, the inquest was told.
On Monday, witness statements read at the hearing said that Mr Bate often carried large amounts of cash in his wallet and he also had a cheque for £11,000.
The statements said the money Mr Bate carried included rent from his farm and other properties.
His wallet has never been found.
In court, police said that "no active investigations were [currently] under way".
Mr Bate's sister, son, daughter-in-law and granddaughter were at the inquest to hear the verdict.
Mr Bate's granddaughter, Kerry Bate, said the family wanted "to see someone pay for what they've done".
Reading a statement from the family, she said: "He was a well-loved man, and he was rebuilding his life after the death of my grandmother.
"He was learning to cook, and even booking family holidays with us.
"There's only one person to blame for his vicious and violent death, and that's the person who killed him.
"All we can hope is that that person, or someone who knows that person, will get a conscience and tell the truth."