Eye-gouge victim Tina Nash 'sickened' her attacker may appeal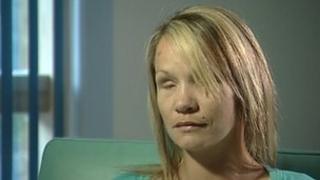 A woman from Cornwall who had her eyes gouged by her former partner says she is "sickened" that her attacker may appeal against his sentence.
Shane Jenkin, 33, was sentenced to life in jail in May - with a minimum term of six years - after he admitted causing Tina Nash grievous bodily harm.
Ms Nash, 31, said there was "no justification" for the move adding that the prospect made her "quite sick".
Devon and Cornwall Police said Jenkin had applied for leave to appeal.
'He's pulling strings'
Jenkin, 33, of Sea Lane, Hayle, attacked the mother-of-two at her house in Hayle in April 2011.
Ms Nash said she was told that Jenkin, who was ordered to be detained in a secure unit, might appeal on mental health grounds.
Speaking on BBC Radio 5 Live, she said: "It made me feel quite sick".
"The fact that he's [now] saying he was mentally ill - why didn't they pick this up before?
"I want his life sentence to stand, that's all I want. I still feel like he's pulling strings.
"I walked away from the the last case thinking it was out of my life."
Jenkin imprisoned Ms Nash for 12 hours after the attack, which also resulted in her jaw being fractured and her nose broken.
The judge at Truro Crown Court said the attack was one of "extreme violence with catastrophic consequences".
Attempts were made to save the sight in one of Ms Nash's eyes.
But the efforts of medical experts were in vain and she was left completely blind.
Jenkin's lawyers made no comment when asked about a potential appeal.