St Austell's White River Place centre sold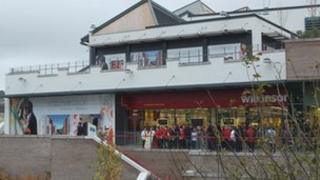 An indoor shopping centre in a mid Cornwall town has been sold.
The White River Place Shopping Centre in St. Austell formed a major part of the town's regeneration plans.
It has been bought by a company called Ellandi which owns four other shopping centres including one at Nailsea.
The Cornish centre took more than seven years to build and cost about £75m to complete - but a number of the units have never been filled.
The founding partner, of Ellandi, Morgan Garfield told BBC News he was unable to reveal the exact price the company paid for the centre, but admitted it was around the £25m price tag quoted in some local coverage.
He said: "We think there's a great opportunity to capitalise on the scheme. We're confident we can attract new retailers and hopefully improve the shopping environment.
"It hasn't been fully occupied but we're hopefully going to change that. We're actively talking to potential tenants."
White River Place opened to the public in October 2009.
The MP for St Austell, Liberal Democrat Stephen Gilbert, said: "I am hopeful that the new investment and expertise will help to continue to drive St Austell forward."