Divers to examine Cornwall's Loe Pool 'for first time'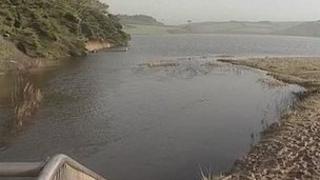 Cornwall's largest natural freshwater lake is being surveyed by divers in a bid to study and help protect the ecology of the site.
Loe Pool, between Helston and Porthleven, is of special scientific interest and not used for watersports.
Scientists have previously relied on boats to check the water and the health of plant life, at the surface of the 50 hectare (123 acre) lake.
The diving is part of a four-year study funded by Natural England.
Ecologist Dr Jan Dinsdale said she had always been restricted to surveying from the surface, as well as examining items she managed trawl up from the lake, which is between 2m and 9m (6ft 6ins and 30ft) deep.
'Never been dived'
She said: "We've really no idea what might be down there.
"There are plants in there, so I'd like to have a closer look at what there is."
Diver David Roberts said he was excited at the prospect of exploring a new site.
He said: "As far we know, no one has ever dived in it.
"We'll be diving in pairs, towing a GPS unit like a marker buoy.
"When we find something, we can mark that spot and bring the ecologists a sample up of what we might find, weed-wise."