Lantoom slate quarry extension plan approved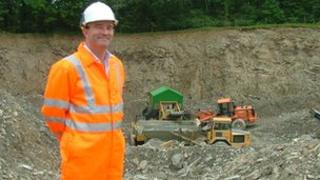 A slate quarry in south east Cornwall is to expand after it was granted a 30-year extension by Cornwall Council.
Lantoom quarry, just outside Liskeard, aims to increase in size by about 30%.
Lantoom quarry is looking at exporting Cornish slate, used for the facings on housing and commercial buildings, to Germany and Belgium.
Managing director Richard Crocker said: "The material has been used locally up until now. But we have started to move material further distances away."
He added: "We're sending material to Hertfordshire and Scotland this week. But we hope to export too."
The quarry has been operating since before the start of World War II.