Isles of Scilly-Cornwall ferry subsidy row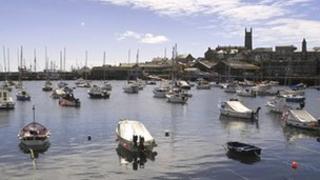 The government has been urged to help subsidise a ferry route to the Isles of Scilly.
Labour peer Lord Berkeley, who is a harbour commissioner in Fowey, told Parliament the journey was expensive compared with subsidised services.
The Department for Transport said that subsidies were issued where services were not provided commercially.
Isles of Scilly Travel, the firm which provides the service, said it was committed to the service.
In the House of Lords, Lord Berkeley said: "The ferry only goes for seven months every year and a return fare is £90.
'Provided commercially'
"This compares to Islay, in Scotland, where there are several ferries a day all-year-round and a return fare is £12.50."
He added that the government should subsidise the cost, like in Scotland.
A Department for Transport spokesperson said: "In general, subsidies are provided where services cannot, or would not, be provided commercially, which is not the case for the Isles of Scilly.
"The existing ferry operator has recently announced their investment in the Scillonian III to allow it to continue for another six years."
A spokesman for Isles of Scilly Travel said: "We are committed to providing the ferry service for the foreseeable future and will continue to watch this debate with interest."