St Austell homes plan sparks criticism of Cornwall Council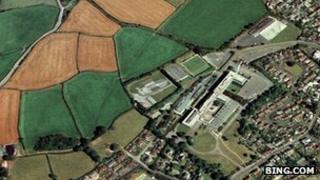 Opponents of 300 proposed properties in St Austell have criticised Cornwall Council's plans at a public meeting.
About 90 people attended the meeting to discuss the proposals submitted by Wainhomes South West.
Plans for the 18-hectare site, at the back of Cornwall College, include retail and office space and parking.
Cornwall Council said it was "looking at building around 48,000 new homes over the next 20 years" to cope with changes in the county's population.
Mike Varney, chairman of the council's strategic planning committee, said he faced "a difficult balancing act", charged with preserving the character of the county and meeting the housing needs of a growing population.
'Forward thinking'
"We have got to look out for the youngsters, that instead of having to migrate away from Cornwall want to actually stay in their homeland.
"I don't want to see this nation of ours concreted over, but there has to be a balance and you've got to be forward thinking."
Steven Henry, chairman of campaign group Save Our Unspoilt Land, said there was, "no shortage of affordable homes" in the area the plans were proposed for.
Mr Henry said: "If they go up to Carclaze to the Lovering Fields Estate they will see huge placards saying that there's affordables there, there isn't a shortage, so why have they got some worry about them? There are lots of them in the system."
Wainhomes said it was at the meeting but it was asked to listen and was told it could not address the meeting.
It is not yet known when a final decision will be made on the development.