'Tombstoning' warning after 'near fatal' accident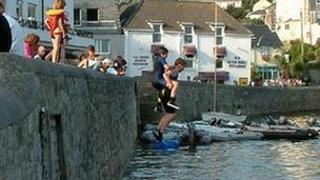 Devon & Cornwall police have renewed their warnings about the dangers of "tombstoning" after a "near fatal" accident in Falmouth.
Police said the harbour authorities had noticed a rise in youngsters jumping from the town quays and harbour walls.
One man who jumped off the pier was "dangerously close" to being dragged under a pleasure boat, police said.
Falmouth PC Andy Hocking said the practice was "dangerous and in some circumstances unlawful".
Mr Hocking said: "The consequences of throwing oneself beneath a large pleasure boat would be like that of throwing yourself f into a liquidizer, in that the propellers on this thing are churning the water and would equally churn any person jumping into that water.
"It's just not appropriate to be jumping into the busiest working port in the south west."
He said at this time of year the police received three or four calls each week regarding "tombstoning".
"We have had incidents where people have jumped from Kiln Quay in Flushing and broken legs and hips where the tide has actually has been near enough out, and that is dangerous," he added.