Dog destroyed after woman attacked near Falmouth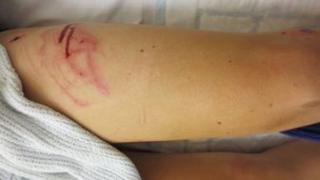 A dangerous dog has been destroyed after it attacked a 19-year-old woman in Cornwall, leaving her in need of stitches for wounds to one of her legs.
Suzy Powell told police that after the animal had mauled her near Falmouth, it tried to chew its way into her car.
The attack happened on Comfort Road, between the Norway Inn and Mylor Primary School on Thursday night.
The dog, which was described as a Staffordshire bull terrier, was later destroyed by a vet.
'Severe injury'
Devon and Cornwall Police said, Ms Powell had approached the dog, which was in the middle of the road, because she was concerned for its welfare.
The animal attacked her and bit her legs causing severe injury, said police.
Ms Powell, from Devoran, said: "It was sort of nipping at my legs but then it got my left leg as I was trying to get back into my car.
"As I tried to open the door, that's when it got me really badly and I had to fight it off to shut the door."
Ms Powell called the emergency services at about 22:15 BST.
She was taken to the Royal Cornwall Hospital and was given 12 stitches to close the wound on her leg.
The dog, which disappeared after the attack, was caught by police at about 03:20 on Friday,
In the process, it damaged part of the police car, a dog loop and a police hat.
A police spokesman said: "We are keen to reassure the local community that this dog has now been caught and destroyed.
"A woman has had a nasty bite from this dog and someone else could have been seriously hurt.
"Our advice is not to approach an unknown dog."
Police want to trace the owner of the animal.